Don't forget…the 2nd annual flash fiction festival presented by the F-Bomb is tomorrow (Tuesday July 19th at 7:30PM at The Mercury Cafe, 2199 California St, Denver, Colorado)!!!!!!!!  Nancy Stohlman is hosting and the features include Christopher Bowen, April Bradley, Mathias Svalina, and ME (promoting, of course, Not Quite so Stories)!
The theme is Elvis Luau, though I'm not sure what luaus have to do with the son Chickenhawk from the duo in The Dixie Fryer who tried to eat Foghorn Leghorn while he was vacationing in the south for the winter: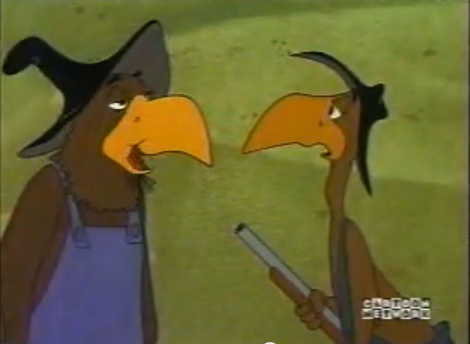 You should come out. Hear all the featured readers and/or read something at the open mic yourself. Again, it's going to be packed, so get there early to sign up for the open mic portion, and be sure to keep whatever you've got to read to 3-4 minutes or less so there's time for everyone.