You might want to stand back for this. Somehow, the wheel on the back of our Dyson Animal DC25 broke off (no idea, found it that sitting where we'd left it, looked like someone had glued it at some point so perhaps one of our house guests/cleaners over the years but neither my wife nor I had any idea what had happened) and it looks like I need to replace the stabilizer. I'm not exactly a handy kind of guy.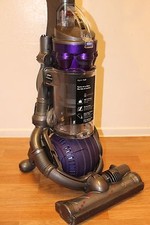 I think I've ordered the right part. It arrived and now I need to put it on. What will happen? Will I break it worse than it already is? Will I manage to get this all assembled and disassembled correctly? Will this end life on the planet?
We'll have to see. I'm writing this before I begin. I have no idea how this will go.