Given my recent binge watching of Twin Peaks, I've generated a number of posts about it. That isn't a surprise. I post every day and to come up with that many posts I usually mine what I'm thinking about most. Not difficult to imagine that would be a show I'm binge watching at the time, particularly one I've thought about for so long. I counted up the posts and realized I almost had a full week worth.
That would not do.
You see, as of the time of writing this post, I had not yet watched the movie follow up to the original two seasons. I plan to watch it tonight. After that, I plan to watch the 2017 series. My wife comes home from Europe Sunday night (Tuesday at the time of writing this) and I need to finish binge watching before she gets back. However, I also work. There is only so much time. The movie is two hours fifteen minutes or so. The 2017 series has 18 episodes of about an hour each. I realized I would probably draft two more posts before Sunday. I did not want to have my final post about Twin Peaks be written before I finished it all, and I didn't want to do more than a week worth of posts on this theme.
Thus, tomorrow will be a purposely non-Twin Peaks post.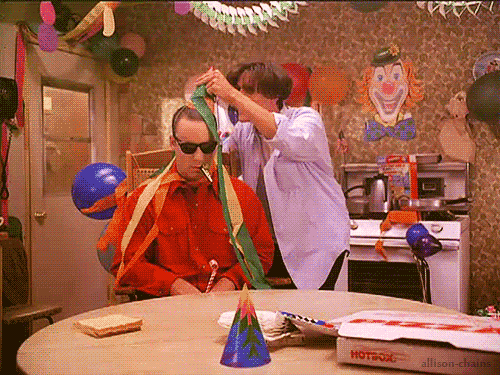 You'll have to tune in to see what it is.